The All Capone Štrajh Trio was established in 1992 by Gregor Strniša. Originally the band consisted of Mirko Vičentič Polič on violin, Tomaž Pinter on viola and Igor Švarc playing 'cello. What would be an electric band in the USA and Western Europe comprises in Slovenia a group of classic string instrumentalists who play original scores. Over a decade around 40 musicians have collaborated with All Capone Štraj Trio. In 1993 they launched their first album entitled Greatest Hits.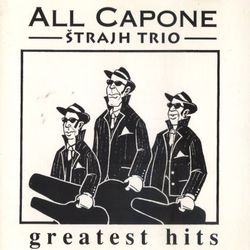 1. Žarki
2. Eine kleine Moz-art
3. Ta nova
4. Smoke on the polka
5. MGL-1
6. Sanjarjenje
7. Kakof
8. My way
9. Tahuda
10. I can't get no
11. Nedolžna ljubica
12. Birdland
13. Klement
14. Yesterday 93
15. Tango
16. Samertajm
17. Tugomer
18. Daydream
19. Žarki za lahko noč
You can get it
here
.