This is a real rarity! This stuff has never been released and was ripped from a cassette. The songs were recorded with an old cassette recorder while band was rehearsing in the boiler room. Unfortunatelly the singer was not present, but as far as I know those are the only songs ever recorded by the band. Sounds really great, you should check it out.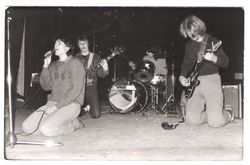 The members of Phenix were:
Goran Obrez: vocals (absent on these songs)
Aleksander Cepuš: bass
Iggy Zelenovič: guitar
Franc Podgoršek: drums
01 - Nočna Mora
02 - Odhod V Raj
03 - Pilot
04 - Turški Marš
You can get this candy
here
.